Hey Guys, did you hear the latest update that Google Announced last night i.e on 21st April on their blog?
It is now free to sell on Google, it means Google Shopping is now Free!!!
Over the last couple of months, the retails sector has taken a big hit due to COVID-19 outbreak worldwide. Most of the countries have shut down the physical stores, implemented total or partial lockdown in order to contain the outbreak of COVID-19. Due to which, digital commerce has become a go-to solution for these retailers. In fact, digital revenue for some industry has almost doubled in the last couple of months.
With people spending all of their time and practising social distancing, they are increasingly shopping online, they are not only searching for essential items instead they are also looking for toys, beauty products, at-home hair removal products, apparel & home goods.
In light of all these things happening around the world, Google has taken a decision to make it free for merchants to sell on Google. This means that earlier merchants who could not afford to run paid shopping ads, now have the opportunity to scale their business online by publishing their product list on Google Merchant Centre.
How & When Free Google Shopping will be rolled out?
Beginning next week, Google Search Results will consist of Google Shopping tab primarily of free listings which will help merchants connect with customers/users regardless of whether they are advertising on Google or not. 100s of millions of searches are recorded in a single day, this means that users are actively searching for items they need and they are actively looking for stores which can ship it to them.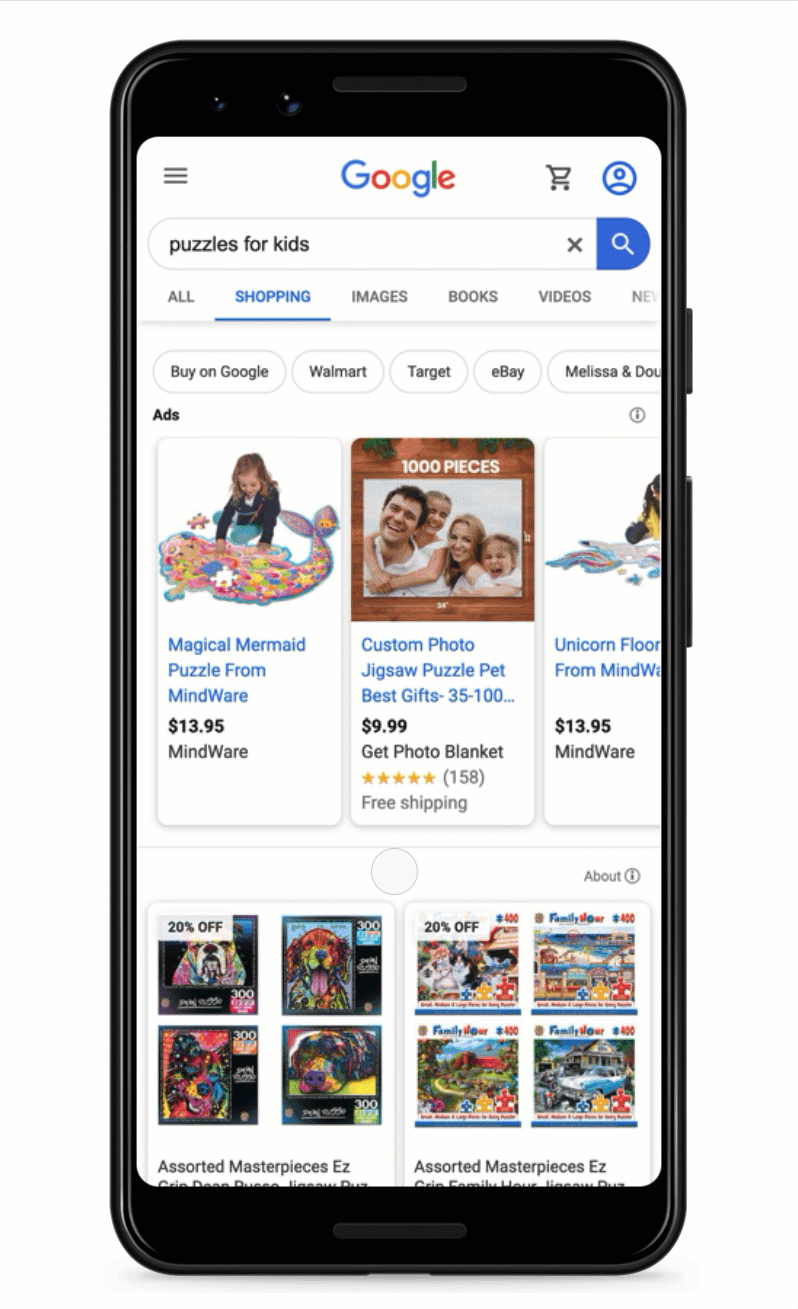 Previously, with Google Shopping being a paid feature it was very hard to get the right amount of exposure and return on investment because of the competition due to which advertisers or businesses has to pay higher CPC amount.
With Google Shopping now being free, for retailers, this change is free exposure to millions of people who use Google to search or find the products they want to buy. For shoppers, it means they will be exposed to 1000s of different stores, products to choose from. For advertisers or businesses who are already advertising on Google Shopping they do not have to change anything on their Merchant Centre, their products will be merged or augmented with the free listings just like Google Search Results where you see ads first and then organic results.
As per Google announcement, this feature will be rolled out in the U.S first before the end of April 2020 and it will then slowly be expanded throughout the globe before the end of the year. Google has created a help centre page for more details and steps to register for this program.
If you need any help or have any questions regarding Google Shopping you can reach out to me via comments or you can connect with me on Linkedin